MASON'S OPINIONS ON CULTS & RELIGIOUS ABUSE
About GAC
Here you will get a quick
overview of what GAC is.

False prophecies that
Goodwin made
In this section, you will find direct quotes from Goodwin that proved to be false.

Misc quotes by Goodwin
Quotes from books and tapes. Was he power-mad or what?

Personal experiences
Personal accounts from former members of GAC. Don't read these if you are easily offended.

Audio
Here you can hear Goodwin for yourself! In one of these sound bytes, Goodwin says that Jesus visited him.

Legal Stuff:
Find out how much Goodwin was worth at his death; read "Goodwin v. US" and more.
 
Gospel Assembly
Christian Academy
A NON-ACCREDITED school
 
Lee Ray
Did you know he had sex with girls and women in the church? Did you know that he molested little boys as well?
Misc GAC photos
Photos of the church, the ministers and more.

Misc. Info
This section contains
info that does not fit
into the other categories.

Newspaper articles
Newspaper articles about GAC

The Covenants
In 1988, Goodwin made the entire church take 10 "covenants" which you can read here. Weird stuff!
Yoke of Bondage
One man's story of his
involvement in the Tom Jolly organization. Jolly was later convicted as a pedophile – and was one of Lloyd Goodwin's mentors along with others.
William Sowders
A history of William Sowder's ministry. (Sowders was another one of Goodwin's mentors.)

Information on cults
Information and links on destructive cults, mind control, brainwashing, and more.

Visitor Comments
See what others think!

Contact info
Contact information for us and Des Moines GAC

Other web pages about
Gospel Assembly Churches
Erroneous Goodwin teachings
This section refutes some of Goodwin's doctrines.
Go back to the
Mason's Homepage


Gospel Assembly Church:
Glenn Goodwin

Glenn Goodwin is the current pastor of the Gospel Assembly Church in Des Moines, Iowa.
<![if !vml]>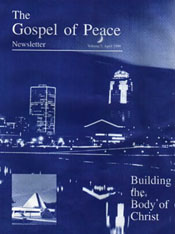 <![endif]>In an article in the April 1999 edition of GAC's Gospel Of Peace Newsletter, Glenn Goodwin calls T.M. Jolly a "great man." T.M. Jolly was a convicted child molester.

Glenn Goodwin states: "We desperately need men who understand the times. Bro. William Sowders, Bro. Jolly, Bro. Lloyd Goodwin, and other great men saved us in the past. Who will rescue us from our present situation? What does God honor today?"

According to Glenn Goodwin, God honored Jolly, a convicted pedophile. I personally am appalled by the fact that Glenn Goodwin--a pastor, attorney, and officer of the court-- would hold a convicted pedophile in such high esteem.
<![if !supportLineBreakNewLine]>
<![endif]>
---

<![if !vml]>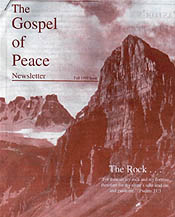 <![endif]>In the Fall 1999 Issue of the Gospel of Peace Newsletter, Glenn has printed an article by his uncle, Lloyd Goodwin. I am putting a few excerpts from this article on this page because it quite clearly shows that Glenn still believes all of this. After all, if he didn't, he would not have printed the article just a few months ago. (Italics and bold added by me.)

Here's a few excerpts:

"...When a person is bound on earth by the local church, there is no way that individual can be saved, because he is also bound in heaven. If they die in that condition, they are lost. Christ cannot save them, neither can they move to another assembly and go on with God, because Christ left the keys to the Kingdom in the hands of His ministry. Therefore, the church that did the binding...must do the loosing..."

"...Anyone who challenges this type of ministry and church order, and will not submit, cannot be saved. They will find themselves 'locked out' of the Kingdom of God. The Kingdom of God is ministered to us by the church, and more specifically, the ministry..."

"...Disfellowshipped by the church-- thus disfellowshipped by heaven. If he dies in this condition, there is no way Christ can save him..."

Hmmm. So anyone who thinks that things have changed since Glenn took over, there it is. Glenn still believes that the only way to God is through his church. Glenn is obviously still using the same tactics of fear on his congregation that his uncle used. NOTHING has changed.

Here are some quotes from the same article that are especially relevant in the present situation:

"...Public knowledge requires public confession of sin. I Timothy 5:20: 'Them that sin rebuke before all, that others may also fear.' Those elders who sin are to be rebuked before the entire church for their sin, and if they will not repent and correct their lives, they are then to be removed from office..."

So they why was Lee Ray not publicly rebuked by Lloyd Goodwin for molesting young girls and for his affair with the lady in the church that bore his son? Why has Glenn Goodwin not publicly made it his business to denounce Lee Ray and his affairs? Why has Glenn Goodwin refused to meet with former members of the church who have these questions? Doesn't Glenn believe what his uncle said in this article? Lastly, if things have changed, why will my own father now have nothing to do with me? All I am doing is exposing sin that the GAC ministry covered up!

The Gospel Assembly Church in Des Moines has covered all of this up for too long.
<![if !supportLineBreakNewLine]>
<![endif]>
---

See this news article, written for the Johnston High School paper. Here Glenn lies about the "Cadillac processions":
As for "Cadillac processions," Pastor Glenn Goodwin said they never occurred. "I know that the pastor that was here three years ago drove a Cadillac. There were a couple of times when he would be leaving to go over seas and people would wave goodbye to him, and he went overseas often." Said Goodwin. "But as far as Cadillac processions or touching cars, that wouldn't happen."
---

Here is some information courtesy of a friend. Many thanks for pointing this out.

Glenn Goodwin sold his house to the church for $157,000 almost immediately after becoming the pastor of Gospel Assembly.

Well, guess how much he paid for it? $108,000. That's right folks, Glenn made a profit of $49,000 when he sold it to the church. That's a hell of a deal: become pastor and get your house paid off!

This information is available on the web at the Polk County Assessor's page. It lists the current value at around $147,000-- still $10,000 less than what the church bought it for.

To check this out for yourself, click here to view that page. Or, you can go to the Polk County Assessor's webpage, and search for 8504 Parkview Drive in Urbandale.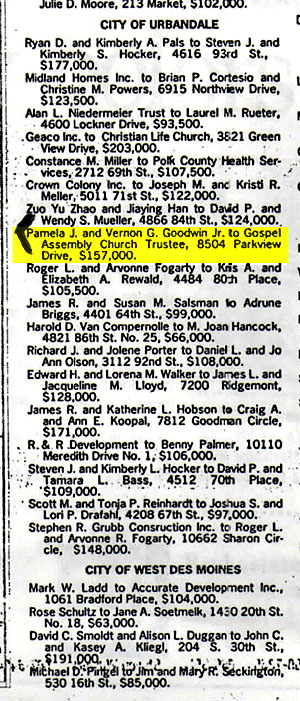 From the Des Moines Register Metro Home Transactions, March 13, 1998.
Vernon G. Goodwin, Jr., is Glenn Goodwin.
---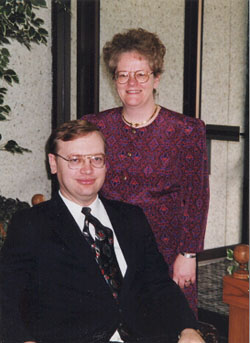 Glenn Goodwin and his wife, Pam.

Go back to the main page