MASON'S OPINIONS ON CULTS & RELIGIOUS ABUSE
About GAC
Here you will get a quick
overview of what GAC is.

False prophecies that
Goodwin made
In this section, you will find direct quotes from Goodwin that proved to be false.

Misc quotes by Goodwin
Quotes from books and tapes. Was he power-mad or what?

Personal experiences
Personal accounts from former members of GAC. Don't read these if you are easily offended.

Audio
Here you can hear Goodwin for yourself! In one of these sound bytes, Goodwin says that Jesus visited him.

Legal Stuff:
Find out how much Goodwin was worth at his death; read "Goodwin v. US" and more.

Gospel Assembly
Christian Academy
A NON-ACCREDITED school

Glenn Goodwin
Glenn Goodwin (current pastor of the Des Moines GAC) calls a child molester a "great man" and more.

Lee Ray
Did you know he had sex with girls and women in the church? Did you know that he molested little boys as well?
Misc. Info
This section contains
info that does not fit
into the other categories.

Newspaper articles
Newspaper articles about GAC

The Covenants
In 1988, Goodwin made the entire church take 10 "covenants" which you can read here. Weird stuff!
Yoke of Bondage
One man's story of his
involvement in the Tom Jolly organization. Jolly was later convicted as a pedophile – and was one of Lloyd Goodwin's mentors along with others.
William Sowders
A history of William Sowder's ministry. (Sowders was another one of Goodwin's mentors.)

Information on cults
Information and links on destructive cults, mind control, brainwashing, and more.

Visitor Comments
See what others think!

Contact info
Contact information for us and Des Moines GAC

Other web pages about
Gospel Assembly Churches
Erroneous Goodwin teachings
This section refutes some of Goodwin's doctrines.
Go back to the
Mason's Homepage



Gospel Assembly Church related photos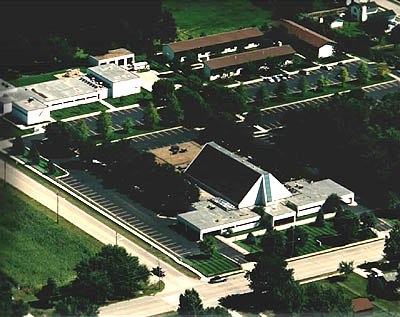 The church building is in the foreground. To the top left is the school, and at top right you can see the apartments, for members of the church only. This is the GAC property that so many former members and current members financed by selling their homes. The Goodwin family, headed by Glenn Goodwin, now seems to be in control of this property.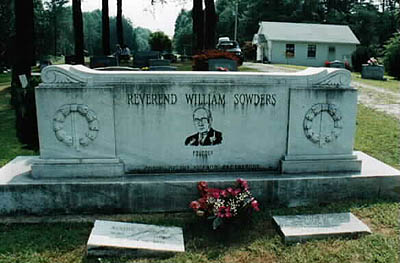 The grave of William Sowders, Lloyd Goodwin's hero and mentor.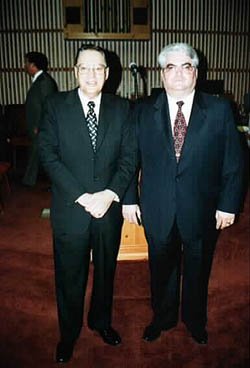 The "apostle" and his sidekick, Rev. Lee Ray.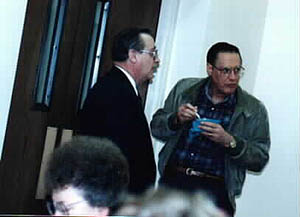 Vernon Goodwin, Lloyd's brother, is on the left, Lloyd Goodwin is on the right. Vernon Goodwin died about 16 months after Lloyd Goodwin did. In Goodwin's will, he left Vernon in charge of the church, with Ray as "spiritual overseer" (whatever that means). Previously, he had also given instructions about who the next two men "in line" after Vernon were. Before Vernon died, when he wrote his will, he ignored those instructions, and placed his son Glenn in charge of the church.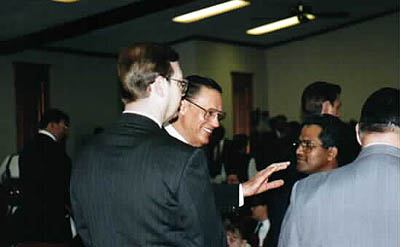 Lloyd Goodwin and Glenn Goodwin, his nephew, now pastor of GAC. Here they are speaking with another minister under Goodwin.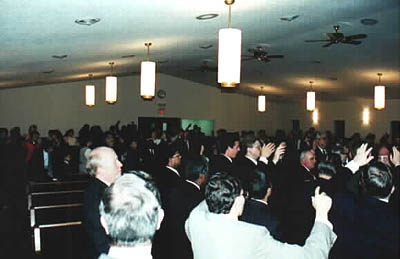 Members of the Gospel Assembly Church fellowship at one of the "convention" services. Members of GAC believe in speaking in tongues, casting out demons, etc. This is a very typical service.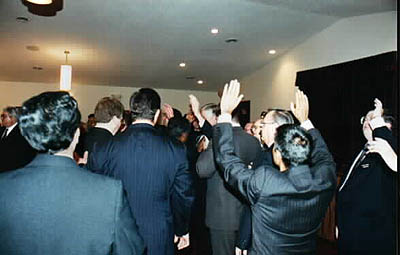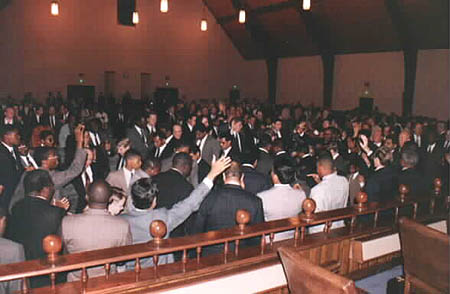 This one is from the inside of the head church itself, Gospel Assembly Church, Des Moines, Iowa.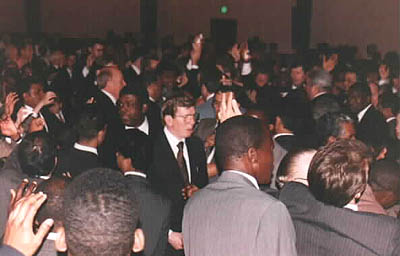 Another typical service.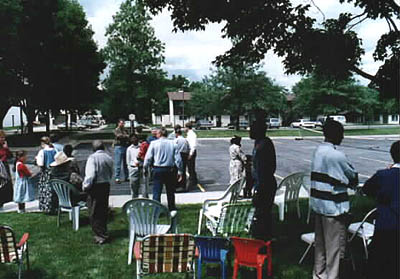 This is a photo of a typical Gospel Assembly Church picnic, which was usually on the church property. We usually had several of these picnics a year. As you can see, even in the hottest summer, the men had to wear long pants and long sleeves, and the women had to wear skirts; never jeans.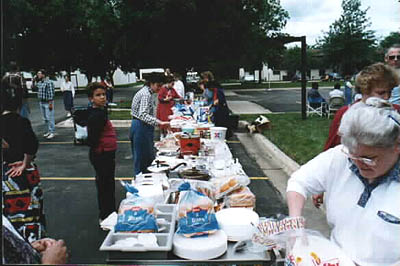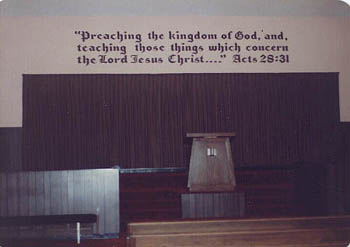 The sanctuary at 6th and Clinton.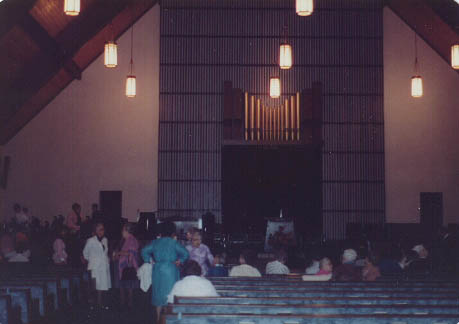 The sanctuary at 7135 Meredith Drive.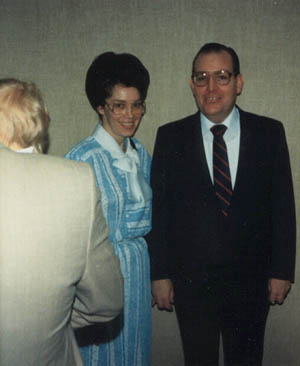 James and Lois Mercer (one of Goodwin's ministers and his wife)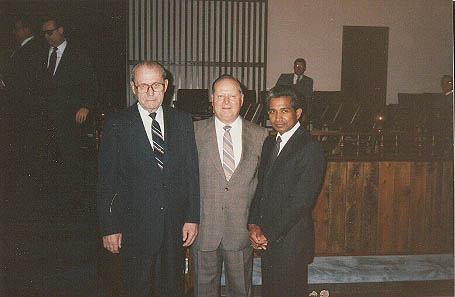 Carl Vorhees, Jack Archer, Desmond Singh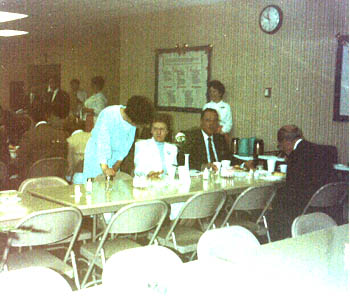 Church dining room at 7135 Meredith Drive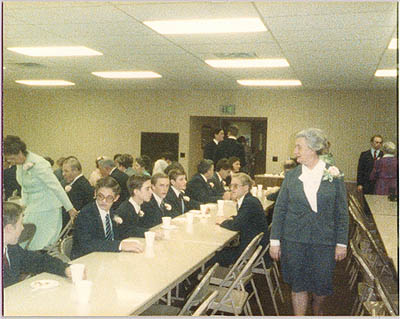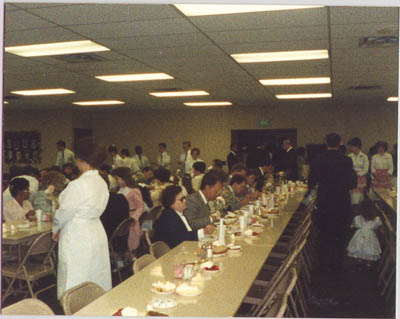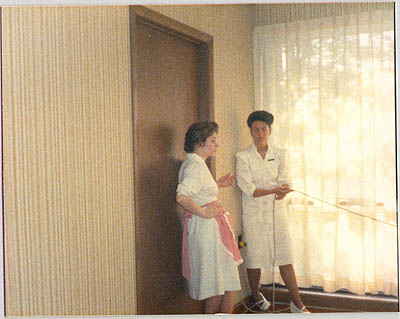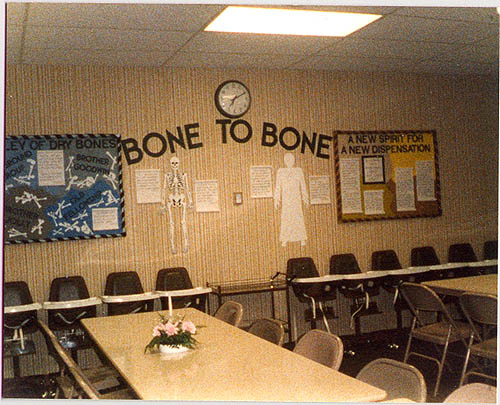 Lloyd Goodwin's board in the dining room showing the link between his organization and Tom Jolly's organization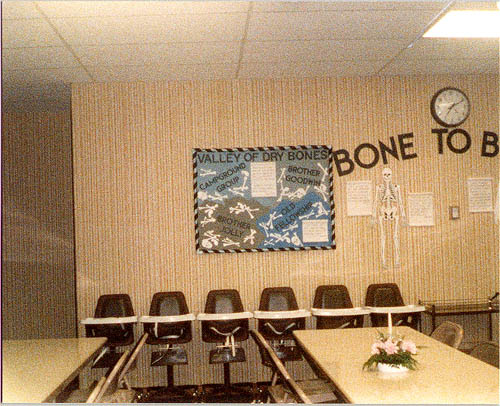 Toronto Gospel Assembly building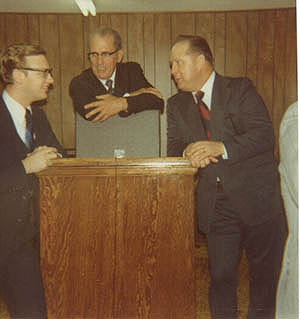 Glenn Goodwin, Carl Vorhees, Jack Archer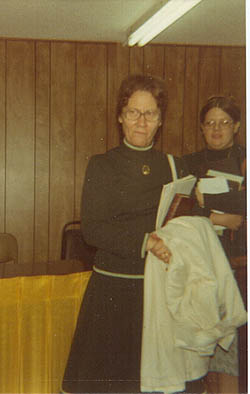 June Goodwin, Lloyd's wife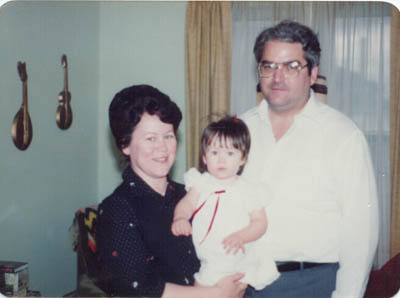 Lee and Alice Ray, and their daughter Joy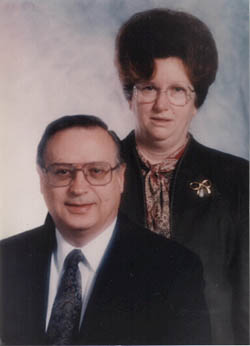 Vernon and Mary Lou Goodwin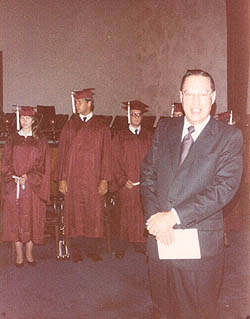 School graduation at 7135 Meredith Drive

Below are some various pictures of the old school at 6th and Clinton: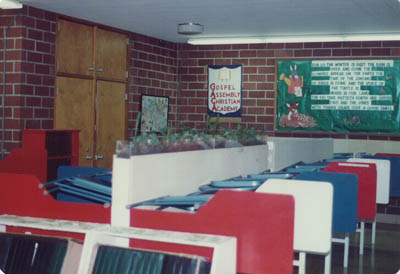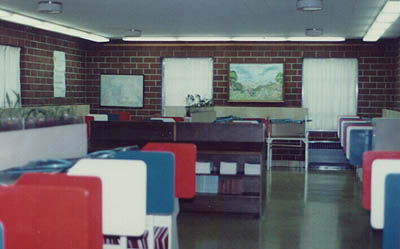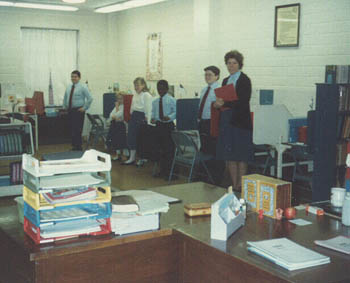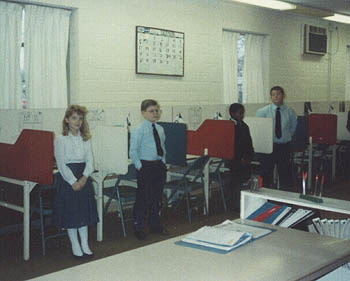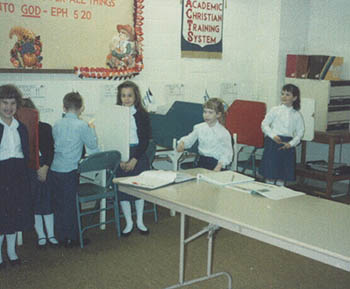 If you have photos that you can send, please email us.

Go back to the main page