FROM THE JOURNAL OF WANDA MASON
I have added to and taken from my story so there are some differences. There are many photos so it may take a while to down load, depending on your download speed. I just wanted people to see some of the faces and places that are in my story. So I hope it is worth your wait. God bless you all.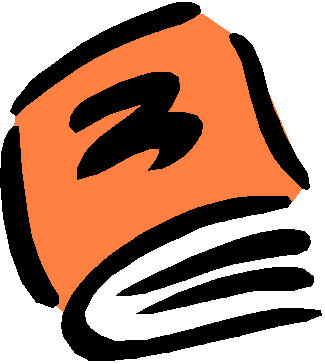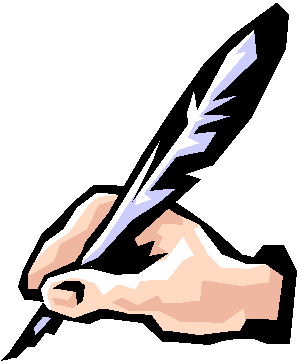 To them God has chosen to make known among the Gentiles the glorious riches of this mystery, which is Christ in you, the hope of glory. - There is therefore now no condemnation to them, which are in Christ Jesus, who walk not after the flesh, but after the Spirit. -† Nor height, nor depth, nor any other creature, shall be able to separate us from the love of God, which is in Christ Jesus our Lord.

HOW IT ALL STARTED
My Un-revised Story
I was born in Stroud, Oklahoma in 1948, and the eighth of nine living children, five boys and four girls. My father was a Pentecostal Evangelist and owned and drove his own truck for a living. He wanted to be free to go to church when he felt the need. My mother spent her life loving and following my father and raising nine children and of course loving us as well. We were poor in material things but rich in love and nourishment, spiritual as well as physical. As far as I can remember, I was never abused, physically, sexually or mentally. I've known a lot of unconditional love and consider myself extremely blessed. If there was any kind of abuse, it was over controlling protectiveness on my father's part and a sense of impermanence from moving around so much. Most of the time we were in two or three schools a year. I loved school and learning and made it for eleven and one half years but gave up when we moved again. (Eighteen years later, I got my G.E.D. and further educated myself through the years as did the rest of my siblings.)
When I was sixteen, we moved to Fort Worth, Texas and attended a church there for several months. The church was Gospel Tabernacle. They had a dining hall across from the church and served dinner there after the afternoon service on Sunday. After the meal, the pastor, Lundy Keller would sit at the table and anyone that wanted to ask questions was free to do so. I was very serious about church and the Bible.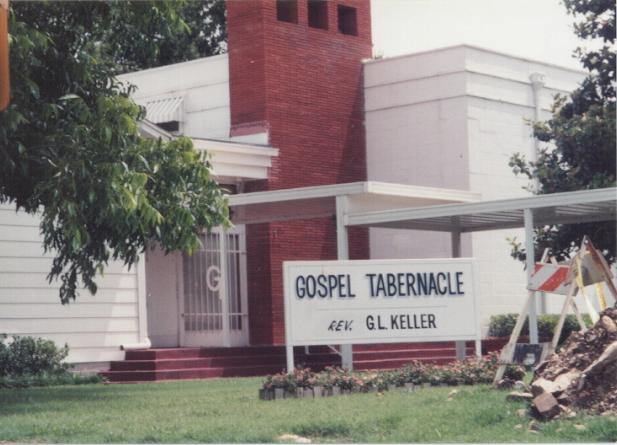 Gospel Tabernacle in 1973
I had a life changing experience with the Lord when I was eleven years old and I wanted to know everything I could about the Bible. My dad taught me how to use a concordance and I did a lot of studying from that time on. But no one had ever taken me really seriously because I was young and when Pastor Keller took time to answer all my questions, I was really impressed. That was the thing that pulled me in. I was very upset when my dad announced that we were moving again, this time to Kentucky and a few months later to Michigan. I met my first husband there and we married when I was barely eighteen. When our second child was seven months old, we moved to Fort Worth and to the church that I had been so drawn to. My brother and his wife lived there and went to the church.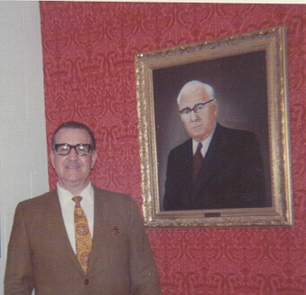 Lundy Keller beside a picture of William Sowders in 1970
I was very upset when my dad announced that we were moving again, this time to Kentucky and a few months later to Michigan. I met my first husband there and we married when I was barely eighteen. When our second child was seven months old, we moved to Fort Worth and to the church that I had been so drawn to. My brother and his wife lived there and went to the church.
As I write this, my emotions range from nostalgia to nausea. There were good times as well as the bad. From 1970 to 1991, for over twenty years, I was involved with churches that I now know to be cults. Many of the churches still have a picture of William Sowders on the wall of the church someplace.
I was in the church in Fort Worth for five years. One of the doctrines of this particular branch is that sex was the fruit that Adam and Eve ate in the Garden of Eden (the forbidden fruit). The pastor, Lundy Keller, who is now deceased, taught that we would have to overcome sex if we were to be saved! To have a child was practically a sin. Many young men, including my brother, (who is still in that church now) were told to have vasectomies, some, even before they got married.
I had two children when I came to the church and had an appointment to get my tubes tied when I became pregnant for the third time. One of the women in the church told me that Keller would want me to get an abortion.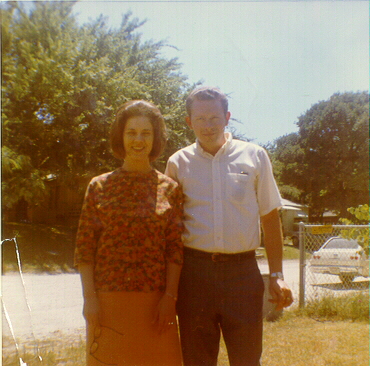 My brother Gene and his wife in 1974
I cried for weeks, but knew that I could not abort my child. He did not ask me to get an abortion but I did get my tubes tied when my son was born, at Kellerís request. I remember one young woman, whose husband had a vasectomy at Keller's request, came up to me after my son was born and said, "I'd rather go to hell than to live my life without a child!" My own brother will never have a child of his own. He and his wife were crazy about my children and wanted their own desperately but they really believe they made that sacrifice for God!
At the same time, however, there were positive things about this church. For the first time in my life, I lived in the same place for five years! I developed more discipline in my life. Pastor Keller wasnít a mean man and didnít really seem controlling at the time but when I look back after all these years, I know that there was mind control involved.
There was really no dress code at this branch but we still looked to Lundy Keller for direction in all phases of our lives. He did not fellowship any other church in the world although he did have his beginnings with William Sowders. The world and God was so small! We were not to visit another church. My brother was even forbidden to come to our Father's funeral when he passed away in 1988. They teach that if you don't attend that church, then you're damned! The entire time I was in Gospel Tabernacle, Lundy Keller told the people not to ever go to another church. My father was a minister for fifty years! But to them, he was spiritually dead because he wasn't part of that church. They use the scripture in Matthew 8:22 where Jesus said, "let the dead bury their own dead and come and follow me." They twist and pervert scripture to fit their own perverted needs! When we moved to Des Moines in 1975, the whole church in Ft. Worth disowned us. According to them we were no longer under God's covering and were to be considered dead to God. †††††††††††††††††††††††††††††††††††††††††††††††††††††††††††††††††††††††††††††††††††††††††† †††††††††††
I was involved with the church in Des Moines for sixteen years.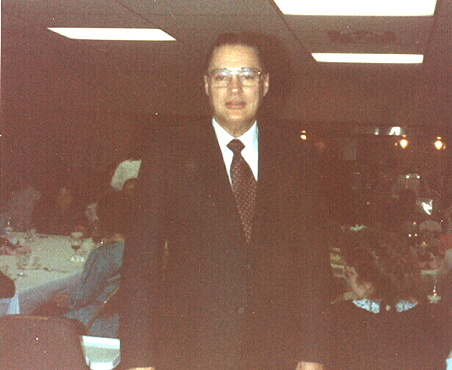 Lloyd Goodwin in the dining room on Meredith Dr. in Urbandale, IA in 1989
Lloyd Goodwin was the Senior Pastor in Des Moines and the only Apostle of all the churches he controlled. He was trained under William Sowders and then Thomas Jolly. After William Sowders death, Jolly became the head leader, so to speak, of all the different assemblies. Then Goodwin separated himself and his church from all of them and started building his own following around the world. He went to India, Africa, Haiti, Canada and all over the United States. He still has followers in all these places, even though he is dead. He was a charismatic leader and a mesmerizing teacher. William Sowders, Tom Jolly & Lloyd Goodwin have all passed away.
The Gospel Assembly (not associated with the Assemblies of God) in Des Moines did not practice sterilization as a rule. Lloyd Goodwin actually encouraged people to have children so that the church could grow from the inside and they could be indoctrinated early on. The church was very controlled and seemed like a really safe place to be. You didn't have to worry whether something was right or wrong. They told you. You were told how to dress, wear your hair, where to live, what kind of car to drive, where you could go, what you could do and not do, what you could listen to on the radio and TV was forbidden. Our children, at that time, could not have a bicycle or go to the public library.
My sister, Sharon (Dotson) Netzer, of Springfield, Missouri, and her family had moved to Des Moines several months before we did. They wrote us letters telling us what a wonderful place it was. Sharon worked as a monitor in the Christian school. They seemed so happy. It sounded like a dream come true. So we moved to Des Moines. The church was a lively place and seemed to be full of the Spirit of God. There was always something to do. We had church five times a week and for three or four hours at a time. We had a Christian school for our children and our own library. I felt like I had truly found the Body of Christ.
As time went on, things started getting harder. Itís like you get taken in a little at a time. Itís like the heat is turned up ever so slowly so you donít really feel it before you are cooked! By this time, you are so sure that this is the right place to be and that you are just suffering for God. You have to remember that it all comes right from the written word of God. There is a gallon of truth and a cup of error, so that you donít realize whatís going on.
During the first couple of months that we were there, my sister, Sharon, went to Goodwin for counseling and as she told him her problem she started crying. He took advantage of her weakness and kissed and fondled her. She was unable to settle for an affair and keep the secret so he forced their family to leave. After she told me what had been going on with her, I went to him and confronted him. He, his wife and another woman in the church convinced me that my sister was lying and in fact had tried to seduce him! (I learned years later that he had told all the ministers that she had come into his office and stripped naked!) They said that she was just mad because he had rejected her and she was full of demons. I was not allowed to speak to her or go to her home or have her in mine. There was a lot of suffering, not only for her and me, but also for our families. They moved to Missouri and later ended up divorced.
She wrote me letters and I was upset because I didn't know what to believe. I talked to Goodwin about it. He instructed me to send them back unopened. He told me to write her a letter and told me what to write and gave me all the Bible scriptures to show me why it was the right thing to do. I really believed I was doing the right thing. Tears rolled down my cheeks as I wrote the letter disowning my own sister. I told her that she was a liar, a whore and a Potiphor's wife (like Joseph and Potiphor's wife in the Bible), that I knew she had tried to seduce the man of God! I told her I never wanted to hear from her again.
He asked to read the letter and said that I had done a good job. He asked if he could make a copy for his files and of course, I said yes. He was almost like God to me. I didn't find out until two years later that he had made several copies of my letter and sent them out to other ministers. He felt that if they saw a letter written by her sister, they would believe it.
One of my friends, Linda Verwers, was at our house in 1977 and told me that I shouldn't have written the letter because my sister was telling the truth! She said that it had happened with others as well. I called my sister immediately and for the first time in two years I spoke to her and told her how sorry I was. She understood. Even after all that, I stayed. I felt that Goodwin was still the "man of God". He had made some mistakes and was human. After all, as he told us many times, "remember David and Bathsheba?" The thing that he failed to mention in David's case, was that when the prophet Nathan, confronted David with his sin with Bathsheba, David admitted it and repented and stopped doing it to anyone else. (He always compared himself to King David and compared Tom Jolly to Saul.)
During the next four years, money was raised to build a new church at 7135 Meredith Drive in Urbandale, a suburb of Des Moines. The people, us included, sold our homes and gave the equity to the church. We kept only enough money to pay down on another house. Some of the people ended up losing their homes a few years later because of really high interest rates. Our men worked day and night in the rain and freezing cold, mud and snow. Families were neglected. The women worked when and where they could, hanging wallpaper, sweeping and cleaning. We took turns taking care of each other's children so all could help. Our whole lives revolved around the church. This was our family: All to build a kingdom for Lloyd L. Goodwin. He never so much as lifted a finger to do any manual labor. The men couldn't even roll their sleeves up when it was steaming hot.
The building was completed in 1980. Later an apartment complex was completed and a new parochial school building around 1993, I believe. Goodwin claimed that all this was to show people that God had blessed his ministry. In truth, it was the result of the blood, sweat, tears, financial sacrifices, broken lives and homes of many sincere, honest, Christian people who felt, as I did, that they were doing it for God.
After we moved into the new church, I became disillusioned. It seemed that no matter how hard you tried, you just couldn't do enough. No matter how much you gave, you should give more. We gave 10% of our gross income, offerings, pledges and school tuition. He would say, "you shouldn't go to McDonalds after church, put that money in the offering." Yet he and his wife and close friends ate at the fanciest restaurants. He drove a Lincoln or Cadillac and lived in a fancy home furnished with the best! They had a second home, also furnished with the very best, in Colorado. He had not worked at another job in many years, so most of it came from the church and outside offerings.
We gave many thousands of dollars over the years.†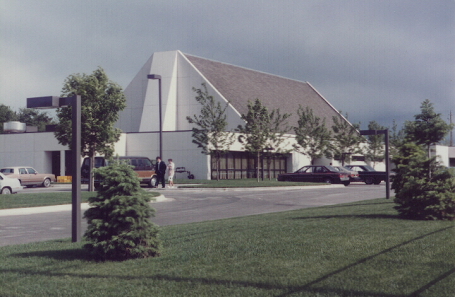 The new church at 72nd and Meredith Drive
Right after Christmas of 1981, I heard that the affairs had never stopped. This is something I cannot prove and if you confronted these women, they would probably deny it for one reason or another. Goodwin actually taught the people righteous deception and that lying was OK if it was to protect him and the church. I do know what happened to my sister and I do know what other people have told me as victims or witnesses. After learning some things from some victimís own words, not only with Lloyd Goodwin but also Lee Ray. I was in a state of disbelief! I was so convinced that Goodwin was the man of God. He even used the Bible to show these women that it was a privilege to be a handmaiden to the man of God. I thought, "Well, he's God's man so it must be okay."
These problems spread throughout the church. It wasn't long and I ended up in a very short-lived affair with a man in the church. (Iíve been married to him for 29 years now in 2014.) However, we could not continue because of our consciences. (I left and we didnít see each other again for six years when he and his wife divorced.) I do not believe that we would have ever done it in the first place if not for the example of our leaders. Somehow we thought it must be okay if they were doing it. However thatís no excuse and we accept full responsibility for our actions. That is why I expose it myself. I also claim Godís forgiveness to cover it again.
I tried to talk to my husband (at the time but now deceased) about the affair, thinking that perhaps we could get some counseling or help. But instead of counseling, he reacted pretty badly. I was beaten black and blue and almost died. (We have made peace over this and this too has been forgiven. He was hurt and humiliated and he reacted in a bad way.)† He didnít hurt me nearly as bad as Lloyd Goodwin did by condoning that behavior!) Some friends took us to the church and all I can remember is Goodwin looking at me and saying "Sister Wanda, now you've learned your lesson, go home and put your hair up (it had fallen down during the beating) and be a good wife." (At the time of my ex-husbandís death, we were all friends and all this was forgiven.)
It was like it was just perfectly natural for this to happen to me because I was a bad girl. For years I stuffed all that inside and always felt that God had punished me and I had deserved what had happened to me. After we had been in the church in Des Moines for six years, we divorced because of a complete breakdown of our marriage and I moved back to Oklahoma. I was away for six years. During this time, I spent one year in Oklahoma and three years in Washington State. During this time, I wrote the following poem in 1984 that reflects the state of my heart at the time. I didn't know really who I was or where God was.

THE WILDERNESS
Lord, has it yet been 40 years?
I'm so weary in this wilderness. I have shed so many tears.
My feet are sore, my hands hang down, and I cannot find the way.
I need my loving Savior to speak to me today.
Where are you Father?
Some say here, some there. Seems that none agree.
I just want the truth Lord wherever that may be.
I ask for bread and not a stone. A promise you have made.
Father, I do believe your word, A foundation you have laid.
Just lead me, guide me, until I've passed the test.
My life depends on you Lord.
For me, you know what's best.
wm/10-7-84

In 1985, I was on my way to Florida and had to go through Des Moines to take my youngest son to spend some time with his father and met Robert Mason again after four and one half years. He had since become single because his wife had left. We married not long after that. We lived in Texas for a year and a half and even after six years of being out of this church, I was still mentally connected. During those years that I had been away, I had still sent all my tithes and offerings to Lloyd Goodwin. I still thought that if I couldn't get back to that church that I couldn't be saved. My husband, very reluctantly, moved us back up here!
I know this sounds unbelievable but it's true. I'm an intelligent woman, above average IQ People say "WHY"? It's hard to answer, except that the teaching sounds so "right." You are intimidated and threatened with God's judgment. We even made an oath that we would keep our own "Ten Covenants or Commandments!" (This gave him even more control over our lives.)

As I "rewrite" this story for the "umteenth" time, I want to refer back to the first time I wrote it in 1992. At that time, it was a type of therapy for me. I sent it to every form of media I could think of. To tell you this part, I feel it is necessary to tell you how I got to this point. I went to a drug treatment facility with my youngest son who has been tormented with a drug problem, in my opinion, stemming from his rejection by his church and even us for a time, his family. It was during this time that I got some counseling for myself and was told I needed to write things down so I just started writing.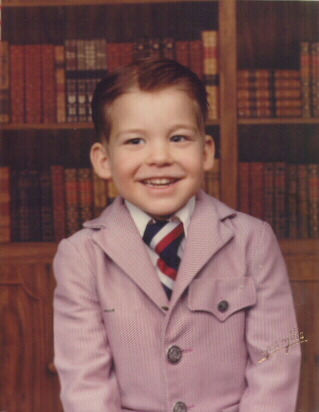 Jeremie at around 3 years old with a school tie.
My son had wanted so badly to come back to this church and this school that he had been in from one year old until almost seven. Every year that he was in the school (in Des Moines and Washington State for three years), he won the award for the highest pace average and many times for perfect attendance along with others. He had a very hard time coping in public schools because of his short attention span although his IQ is way above normal. I am not boasting but just trying to get a point across. I may not have every little detail exactly correct because it has been a while ago.
So in the 7th grade (1987), he started back here in GACA. I believe it was getting close to the end of the year (before the school day started) and he was defending his stepbrother to some other boys in the school who were calling him (his brother) and a friend of his names. These boys retaliated and from my understanding they shoved him across the learning center. He came home with a big red welt across his face, crying. He begged me not to "tell on his friends." He didn't want to get them in trouble. So he took the blame and got suspended from school for a week or two, along with the other two boys. Up to this time, he had perfect attendance and straight A's. He got the award that year for the highest pace average in the school.
The other boys didn't even tell their parents that they had been suspended because they were so scared. They would dress for school in the school uniforms. Their parents would drop them off at school on their way to work and then the boys would go to one of the boy's homes and spend the day and come back in time for the parents to pick them up. I know this because I watched them do it every day. We lived right behind the school.
That summer, Jeremie did everything he could to do what he was supposed to do. He didn't play with any of the other neighborhood kids. He went to every church service. He wore his white shirt and tie and suit, kept his hair cut short and slicked back like L. Goodwin required. He loved that church and wanted to do what they said was right. It was getting close to the time for school to start again and I went to Alice Ray, Lee Ray's wife, and asked her what school supplies I needed to get for Jeremie. She said: "Who said he was coming back to school?" I was shocked! I said, "Well, he's been doing everything that he's supposed to do." She said: "Well, he hasn't gone to the altar and repented for what he did." I told her that he hadn't done anything to repent for and that he had already been punished enough. She became angry with me and I walked off. They could be so cruel.
Needless to say, he was not allowed to come back to school even though the other two boys who had actually been guilty were allowed to come back. I remember one time at church, one of the ministerís sons came over and was talking to him and his father (the minister) came and grabbed his son's arm and said: "Get away from him; he doesn't go to our school. You're not allowed to be around him." My son was crushed and hurt so deeply over that. Even after that, the young man used to "sneak" over to our house to see my son because they liked each other.
I watched my son go from a bright, energetic, loving child to a sad, depressed and very unhappy young man. Sad to say, he also did not get the loving support that he should have been getting at home either. We were so absorbed in trying to make him abide by the rules of the church even though they had rejected him that he started looking for acceptance elsewhere. There are people out there who prey on young people who are looking for love and acceptance. He ended up in a gang and almost lost his life. But they accepted him. That is very important to young people. That's where the drugs started. These kids don't become addicted to drugs and alcohol for no reason. They are trying to cover up the hurt and pain that they feel inside. Sometimes it just hurts too much. It was actually because of my son that I started seeking God and asking questions. I could not equate the Love of God with what I was seeing in this church. I just could not see that Jesus would treat his children in this manner. I almost cry every time I look at some of his pictures from that time. There were few happy ones. We lived right behind the school and he saw his friends who could not speak to him and his church and school had rejected him.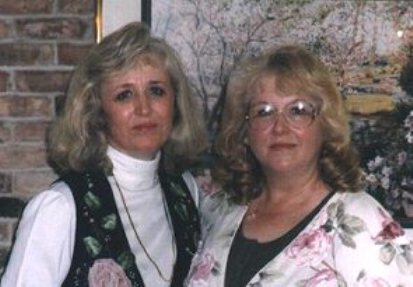 Elaine and Wanda in 1997
The truth of the matter is that Lloyd and June Goodwin and Lee and Alice Ray didn't like me because of what I knew about my sister and Lloyd Goodwin and Lee Ray and their affairs. Lloyd Goodwin didn't want me to come back to the church in the first place but I just came anyway because I thought in my mind that I had to if I wanted to go on with God. They didn't like anyone with a mind of their own in the school. They wanted the children and everyone else to be passive. They don't like the ones that they cannot control. Even my son's supervisor that year told me that she didn't think they did right by my son. She said that he was a good boy and a good student but no one asked her opinion. She told me at the time when I asked her about it: "Maybe God doesn't want Jeremie in this school." Just trust God to work it out. She never worked in that school again (after that year) as far as I know.
We were not allowed to talk with anyone in the church about our problems. I had tried to talk to a couple of women in the church who I considered friends and later they came and repented to me for listening to gossip! How is it gossiping to talk to a friend about problems with your own child? I later learned that it's a form of mind control used by cult leaders. These women were just doing what they were told by these leaders. Anyway, because of my problems with my son, I started going to a group called ďTough LoveĒ and I met a wonderful friend who was one of the leaders of this group. Her name is Elaine Mefferd and she showed such a beautiful Christian spirit. She had gone through some bad things with her own son and was such a comfort to me. When I told her where I went to church, she said that she immediately began to pray that God would set me free. She knew that it was a cult. She was one of the reasons that I began to question the church. She really showed Christian character and I didn't feel that in the church leadership and many of the people. She gave me a couple of books to read that really helped me get through that time. Jeremie had been living in a drug filled haze and came close to dying on several occasions but thankfully is still with us. He spent time in prison for being addicted to drugs. After he got out and became drug free, he met the mother of his two beautiful children, a boy and a girl, ages three and four at this date (October 18, 2011)
The last time I really went to church as a member, I had been asking God for truth. I told God that I didn't even want to go back over there but if that was what was required of me then God would have to give me the desire to go back. I had had a very hard surgery and a slow recovery and it actually gave me time to think, read and pray. I went to church that night with a desire and a prayer for truth in my heart and the first words out of Lloyd Goodwin's mouth that night were:
April of 1991: "The devil has made idiots out of women, they are fickle and the devil continually makes fools out of them. They are silly and stupid and many go haywire. There is no enmity between the devil and the man, just the woman. She's emotional and not capable of thinking for herself! She is used by the devil to do much, much, much more damage than a man could ever do! No man on the face of the earth could sink as low as a woman when she sinks!"
These statements were the catalysts that jarred my mind and started me thinking critically.
The women were humiliated and taught that they were to obey their husbands no matter what. Goodwin told a friend that if her husband told her to jump off a cliff, she had to obey! When she left the church, he told her husband to divorce her, which he did. Here is an example of some of his teaching and this is verbatim.
I guess what I'm trying to say here, is the way he (Goodwin and other leaders of destructive religious churches) gain control over the people in their congregations. Since even the men were under such control by him, it made them feel better because they in turn had control over their wives and children, which can really turn into abusive situations. I've seen it many times and even been the victim of it.
After four years back here, I knew something was wrong. I went to the home of my sister, Betty Edmondson, in Arkansas and she helped me through this dark but very fruitful time of my life. Although there are good professional deprogrammers who work with victims of mind control, in my case it was her and the Lord who assisted in my deprogramming. At that time, I had no idea what deprogramming was. I was there for nine days and she gave me books to read, such as, Jonestown, The Perfect Victim, history and other books.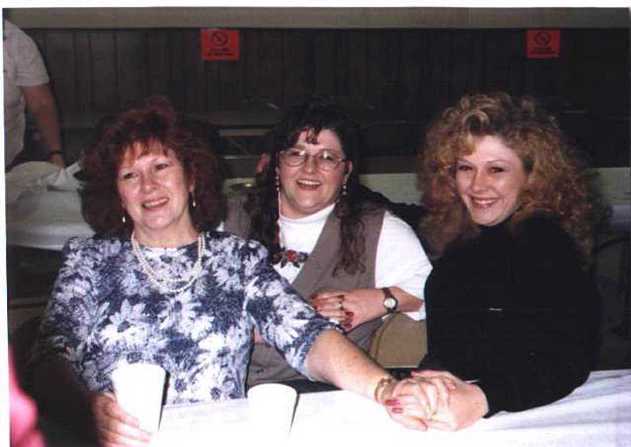 Betty and two of her daughters around that time
It took me several hours before I could even begin talking about what was going on in Des Moines. I was afraid that God was going to send down lightening or something! Finally, I just said "God, if you want to strike me dead, go ahead and do it." I decided if God was the kind of God that would strike me dead, then he wasn't the kind of God that I wanted anyway. That's just the point that I had to get to. Then it was like a dam bursting. At first, I argued back with scriptures that I had been indoctrinated with and Betty finally just got the Bible and laid it on a footstool and suggested that we just start all over. We went back to the basics. I felt like I was in labor! I walked the floor, I cried, I became sick at my stomach, I read and read and read some more.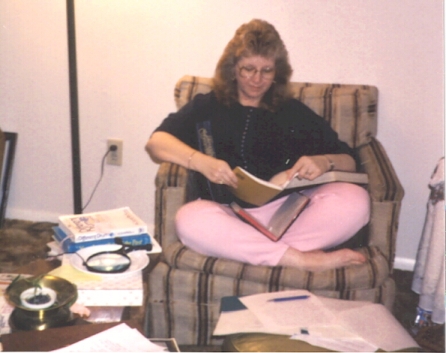 Myself, reading at searching at Betty's home.
When I read about Jim Jones, I felt that I was reading about Lloyd Goodwin. When I read The Perfect Victim, by Christine McGuire & Carla Norton, which is about perversion and dominance, and very graphic, I felt like I was reading about Goodwin. It took extremes to get my attention and make me start "thinking critically" again.
When I left her home, the world seemed bigger and the sun seemed brighter. I felt like a newborn baby. It was freedom that I had never in my life experienced before.
A poem I wrote right after I returned home. It shows the freedom I felt:

WHAT A WONDER!
I know that I am but a child, the wonders 'round me grow.
The world's been opened up to me; no longer tossed to and fro.
My Lord's opened up the boundaries. He guides me every day.
Each moment, I acknowledge him and He directs my way.
I know that if I stumble, He'll lift me to my feet.
I know that if I'm needy, He'll give me what is meet.
No longer need I worry beyond this present day.
Nor plan and plot the future. He knows just what to say.
I thank you Holy Father for the wisdom that you give.
Because of Christ within me I shall forever live.

When I got back to Des Moines, I called the pastor in Texas, Brother Don Patton, who had been sent a copy of my letter and I told them the truth about my sister. (Actually I talked with Wanda Patton, his wife.) I felt I must make it right. When Goodwin found out what I had done, he publicly threatened my life! My husband was there and heard it. He called me by name and said "If Wanda Mason is not dead within (approximately) two months, then God never called me to the ministry!" He also said, "She will not die the death of a normal woman but will be in a horrible, fiery crash and be burned and charred beyond recognition!" The next service my husband went to, he said the same thing but said in essence referring to certain scripture timelines, "It will just be a few days!"
I called Bill Verwers, who had been out of the church for several years and asked him if I should take this serious and he said "absolutely." He said that the same thing had happened to a man years earlier while on his way to confront Goodwin about his wife. We heard him use this example many times to prove that God was on his side. I wrote Goodwin a letter and told him that we had gone to the authorities and had it documented and taped that he had made the threat. My husband and many other people were witnesses. I told him that if anything happened to me that he would be the number one suspect along with anyone that worked for him. I tried going to the Elders but no one would listen to my side of it. Everyone was told to shun me. After that, he told everyone in the church that I was a Jezebel and I was trying to destroy the man of God. Lee Ray even made the statement that I was going to die the same death as the Biblical Jezebel. None of my friends would speak to me after that for a long time. It's been twenty years now (May 1991-2011) and I'm still alive! He isnít. Even if I die today, he was a false prophet. So evidently, God NEVER called him to the ministry! Those are his own words!!!
After I left, I heard that there had been sexual misconduct going on there all along and not only with consenting adults. Bill and Linda Verwers told me that their young son had walked into Leander Ray's office one day several years earlier and caught him in the act of molesting a young teenage (minor) girl. Ray was the principle of the Christian school as well as one of the pastors before he moved to Kingsport, Tennessee, where he is now. I also learned that Lloyd Goodwin had been having an affair with a young girl for years (from the time she was 14 or so) and it was still going on when he died. I heard that he even had letters written to send out to other ministers in his fellowship. The letters stated his intent to marry this young woman in the event of his wifeís death! June (or Martha Jane) Goodwin, his wife, is still alive! He isnít.
At first, I just about threw the Bible away. I studied all of man's religions that I could find over the next five years. I started with Egypt and Babylon. I considered everything. I thought Lloyd Goodwin was the greatest Bible teacher that I had ever heard and he was wrong and I thought "now what do I believe? I even got burned on several more occasions in my search and was absolutely amazed at the number of controlling cult like situations there are in the city of Des Moines alone! One thing for sure, after you find out what touching that hot stove is like; you recognize it pretty quickly thereafter. I also had a couple of years of professional counseling as I was suffering with Posttraumatic Stress Syndrome. I couldnít even bear to go to a Christian counselor. I didnít trust anyone related to religion for a long time.
There are many books out about this subject but some that were a big help to me are ďCHURCHES THAT ABUSEĒ and ďRECOVERING FROM CHURCHES THAT ABUSEĒ, by Ronald M. Enroth, and ďTHE SUBTLE POWER OF SPIRITUAL ABUSEĒ by David Johnson and Jeff VanVonderen. They give much insight into the problem of abusive churches.
I'm so very thankful that I'm free from it! But I feel that I can't just sit around and do nothing while there are so many honest and sincere people who are held prisoners in these abusive churches! They are not in literal cells with literal bars, but are held captive by MIND CONTROL AND BRAINWASHING. Most people, when and if they get out of a cult, choose to try and forget and go on with their lives but I feel that EVIL prospers because GOOD MEN (or women) DO NOTHING.
I would like to do SOMETHING. That is why I wanted to publish my testimony. I know that ultimately God is the attorney, the judge and the jury and Iím very glad about that.
Tom Jolly was arrested, charged and convicted in 1993 (St. Louis dispatch) of molesting three girls ages 9, 13 and 16 at the time of the incidents. This happened at his church in St. Louis, Missouri. His charge was second-degree sexual abuse and two counts of sodomy. They didnít want to put him in prison because he was sick and they didnít want to have to pay his medical bills. He died shamed and disgraced a couple of years later. He was 83 years old and had been getting away with this type of thing for 40 years!
Lloyd Goodwin died on July 20, 1996 of a heart attack after giving his last sermon. He died in church. He had told the people a short time before that the Lord had appeared to him in person and spoke to him and told him that he had ten more years. He had preached many times that people need to start falling over dead, just like Ananias and Saphira, right at church! He was the first one. After his death, there was a split in the church.
His brother, Vernon Goodwin, who was one of the Elders I tried to get help from, was left in charge of the church. Leander (Lee) Ray had been in Kingsport, Tennessee for several years. The split was between Vernon Goodwin and Lee Ray and many of the people moved to Kingsport with Lee Ray after Lloyd Goodwinís death. Many more have just left. (We have been reconciled with some of them.) Iíve heard that Lee Ray has changed but it is my opinion, because of reports Iíve heard that he has changed his tactics.
Vernon died 16 months later in November of 1997 from a brain tumor. He left his son, Glenn Goodwin, in charge as pastor. Years before, Glenn had gone to school to be an attorney, at Lloyd Goodwinís request. I believe that the church paid for his schooling but Iím not sure of this. He is carrying on his Uncleís work and even though several former members have contacted him to try and work things out, he refuses to discuss anything concerning the allegations of former members. I have copies of court documents that seem to have been falsified to hide wealth from taxes. He and his family pretty much seem to control the five to eight million dollar property that all of us worked so hard to build. We were raped spiritually and financially. I know we gave close to $35,000 just the last four years we were there. In 2010, I contacted Glenn Goodwin concerning what his Uncle had done and he did say that ďIFĒ his uncle had done anything he was sorry. I would have liked to hear him say, ďI am so sorry for ďALLĒ the horrible things my uncle did. But at least he responded to me which is something that Lloyd Goodwin or Lee Ray never would have done. Lloyd Goodwin is still touted as the greatest man of god that ever lived. So in my opinion, it was lip service and not true repentance.
I must also say that during the twenty plus years I spent in this type of controlling cult like situation, there were some good and positive experiences. I learned some good things. I've visited many, many churches in these years and it seemed that nothing really measured up to what I was looking for. I don't hate Lloyd Goodwin or the people of Gospel Assembly and I forgive them as much as I know how to. My purpose is not to get revenge but to not let them off the hook. There is a big difference. Thatís what has happened so many times is that people just want to say, ďForgive and forget.Ē God help us if we forget because we will be doomed to repeat the past. I donít think it is right for a person to forgive such horrible things unless the person has asked to be forgiven. Someone asked Jesus how many times they should forgive their brother, seven times? And Jesus told him that if his brother sinned against him and CAME AND REPENTED TO HIM then he should forgive him seventy times seven a day. So there is a condition to forgiveness and it is repentance.
Robert and† Wanda Mason †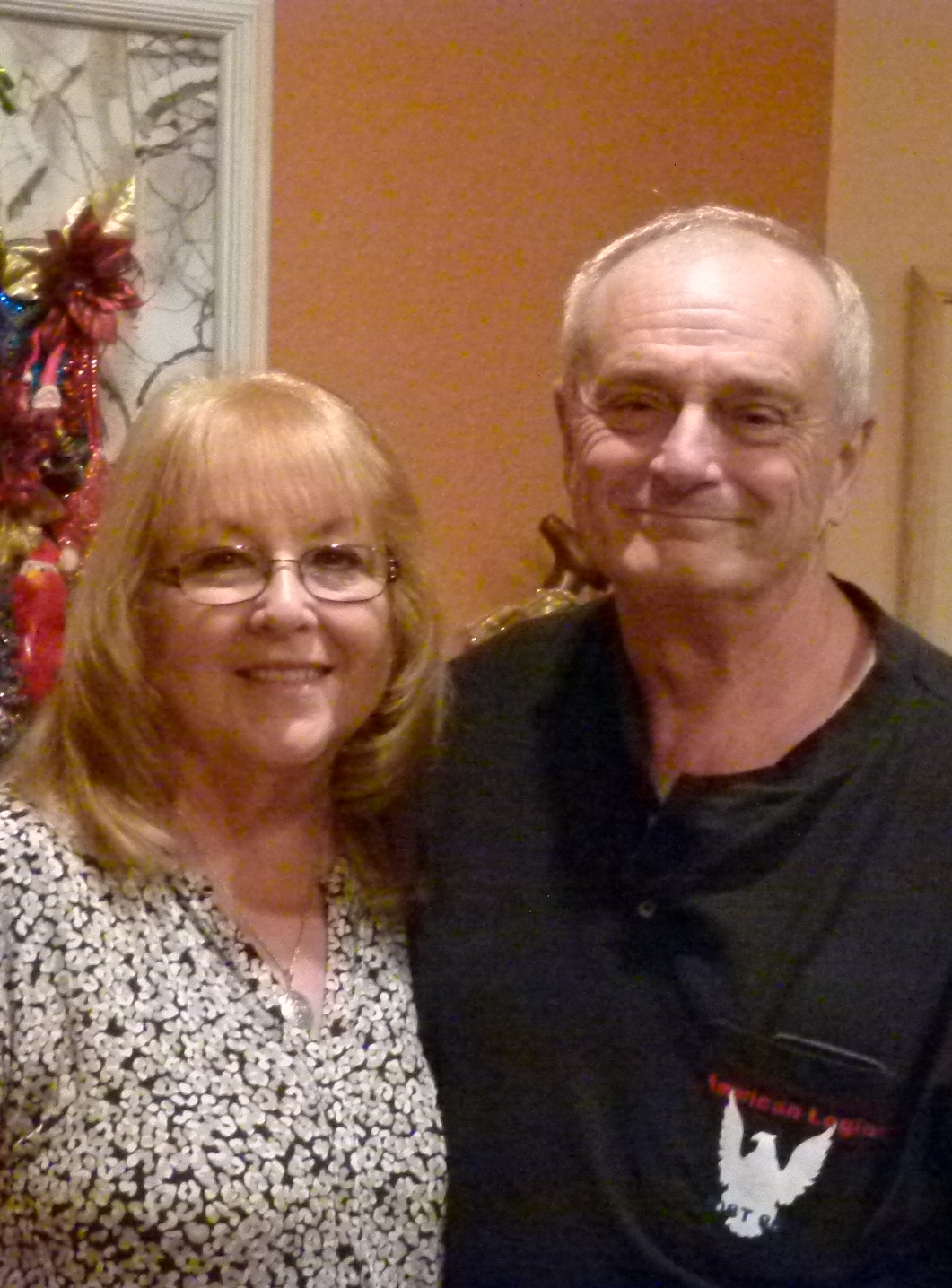 There are many innocent people whose lives are still being hurt and broken. We thought we were giving our children the very best but they were definitely hurt by this and are trying to learn how to keep the good and discard the bad. There was a lot of mental abuse in the church as well as the school. When we put them in public schools, they were behind everyone else and it was difficult for them to cope. We all had a hard time making decisions after we left because they had been made for us.
We donít go to church a lot. Itís been difficult to trust anyone again. We put so much trust in "so called" men of God that itís really hard to do it again, even though we have met and been helped by many good Christian friends and ministers since we left the church.
My belief system is rooted in the Bible but I look at it in a very simplistic way. I donít care to hear preaching about doctrines such as the Godhead. Who are we to try and "explain" God? We are taught to follow the simplicity of Christ. I have had enough doctrine to last a lifetime. Just tell me how to "love the Lord with all my heart and
We are learning who God truly is and that we donít have to go anywhere to find God. God lives in us and we take God wherever we go! I guess thatís why we are on this earth, to live and learn and help others as we go along the way. We are not perfect but I can truly say that I have peace in my heart and am happy and content with my life. I know who I am in Christ.
Wanda Mason†††††††††††††††††††††††††††††††


My Life Ė ďThe Fruit of the FireĒ
†††††††††††††††††††††††††††††††††††††††††††††††††††††††††††††††††††††††††††††††††††††††††††††††††††††††††††††††††††††††††††††††††††††††††††††††

PERSONAL STORIES
†††††††††††††††††††††††††††††††††††††††††††††††††††††††††††††††††††††††††††††††††††††††††††††††††††††††††††††††††††††††††††††††††††††††††††††††

HOME PAGE