"WHAT WOULD JESUS DO?"
Matthew 14:19-21 And he directed the people to sit down on the grass. Taking the five loaves and the two fish and looking up to heaven, he gave thanks and broke the loaves. Then he gave them to the disciples, and the disciples gave them to the people. [20] They all ate and were satisfied, and the disciples picked up twelve basketfuls of broken pieces that were left over. [21] The number of those who ate was about five thousand men, besides women and children.
Taken From the Family Circus and written by Bill Keane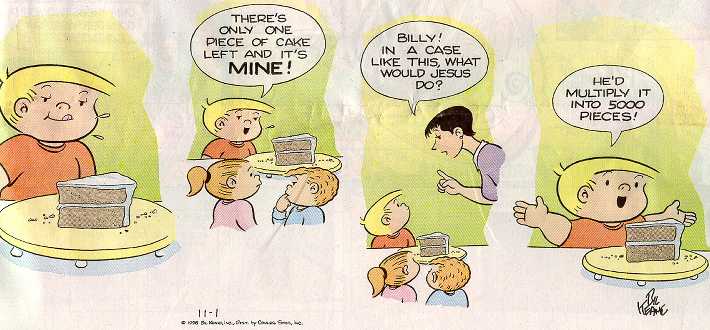 Billy says: "There's only one piece of cake and it's mine!"
Mom says: "Billy! In a case like this, what would Jesus do?"
Billy says: "He'd multiply it into 5000 pieces!"